Welcome to the St. Francis Xavier Athletic Association.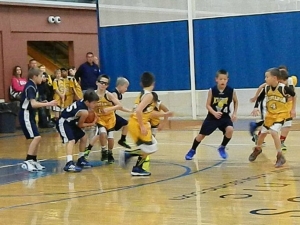 Thank you for visiting our website. We are responsible for the athletic program at St. Francis Xavier Parish in Medina, Ohio. St. Francis Xavier athletes, who are students in either the day school, home schooled or Parish School of Religion, play in leagues sponsored by the Diocese of Cleveland Catholic Youth Organization (CYO) in the following sports:
Cross Country (fall)
Basketball (winter)
Track and Field (spring)
Girls Grade School Volleyball (fall)
Boys and High School Volleyball (spring)
Football and Cheer (Fall) in conjunction with St Ambrose Parish in Brunswick
We invite all members of St. Francis Xavier Parish to become involved in CYO, as an athlete, parent-cheerleader, coach, scorekeeper or board member.
The CYO in Northeast Ohio is part of Catholic Charities Diocese of Cleveland, and it encourages each participant to grow in character, ability and community while honoring oneself, as well as one's family, teammates, officials and church. As such, the program promotes the values of Dignity of Person, Hope, Service and Justice to all those whom we come in contact with each day.
To sustain this focus, CYO endeavors to help young people be more Christ-like in the way they live. This occurs when the young person, not the athletic activity, is the main focus of what we do. Each participant, parent, coach, official and volunteer need to work together to bring our Gospel vision and values to life in every aspect of CYO programs.
We encourage our athletes to compete hard while being Christ-like in all that they say and do.
Thank you for your support of our program!
Kim Tuchek
ktuchek@sfxmedina.org
Athletic Director