The St Francis Xavier Football coaches are organizing 2 fundraisers to help with equipment and program purchases for this new sport being offered at our Parish.
A Night at the Races will be held in the church basement on April 11th .
Doors open at 6:00pm
Post time at 7:00pm
Early bird ticket price is $20 (includes food and beverages)
Early bird deadline is April 5th
Best Value – $50 package (2 tickets/1 horse)
$35 package (1 ticket/1 horse)
Tickets and Group Table reservations available
(Get some friends together and enjoy a Night at the Races!!!)
Call Kevin D. Blinkhorn at 330-606-4079 or kblinkhorn@roadrunner.com
Kim Tuchek, along with Head Coach Steve Dryer and assistant coach Chris Forgan hold up the winning ticket from the Cav's raffle held by the New CYO Football Team.
Congratulations to Cindy Fitzgerald, from the office of Dr Richard Benninger D.D.S. , Dr Gary Schween D.D.S. and Dr Brian Schmidt DMD D.D.S. for winning the Cleveland Cavaliers raffle. Cindy receives 4 box seats and a parking pass….Way to go Cindy!!!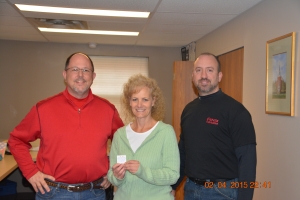 Cleveland Cavaliers Boxed Seat Raffle
$25.00 /Ticket or 5 tickets for $100
Maximum of 200 tickets will be sold
4 Boxed Seats (section C126, row 26, seats 13, 14, 15, 16) to the
Cleveland Cavaliers / Boston Celtics NBA Basketball Game on Friday
April 10th, 7:30 PM @ Quicken Loans Arena In Cleveland, Ohio.
Winning Ticket will be drawn by Kim Tuchek, Saint Francis Xavier CYO Athletic Director in the SFX Parish Office on Thursday April 2nd, 2015.
Please contact Tony DiMarino or any St Francis Xavier football coach for ticket sales.
anthonydimarino@hotmail.com